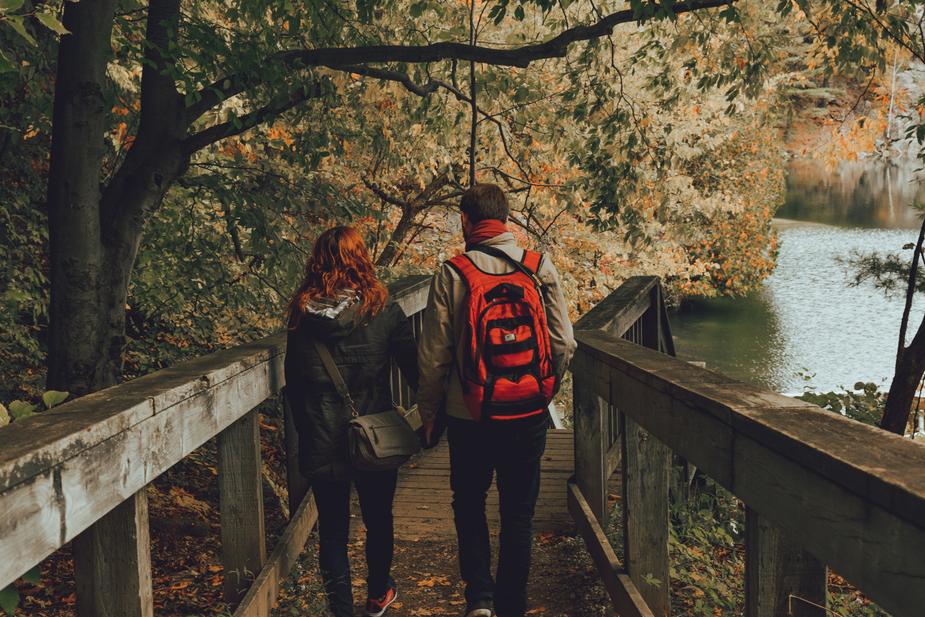 Thanksgiving is a holiday when many people are most excited about spending extra time with family and friends. While gatherings may look and feel different this year, there is constant we can all look forward to: FOOD! One of the best parts about living in a country as diverse as the United States is that our holiday glorifying food has evolved into so much more than just the "classics". While there is nothing wrong with turkey, sweet potatoes, and pumpkin pie, in the 21st century, Thanksgiving now includes everything from taquitos to bao buns, and even tofurkey and tempeh!
So, when facing a mountain of delicious calories, and the pressure to try a "just a bite" of everything, how do you keep from feeling like a bloated bear who's gorged a bit too much before hibernation? A little exercise, of course! If you burn calories before your Thanksgiving meal, not only should you feel less full, but you'll also enjoy the sense of accomplishment that you took some time to take care of your body. While many people are bummed that organized races and events are cancelled this year, you don't have to participate in a Turkey Trot to get your heart pumping. Here are a few different activity ideas you can safely participate in no matter where you are!
Go for a long walk
As far as fitness goes, very few things are as accessible as going for a walk--which is why so many fitness trackers help their users set a daily step goal. For reference, 10,000 steps is generally about 5 miles depending on your stride length, by the way. The Mayo Clinic lists off a few of the following benefits to walking:
Helps maintain healthy weight

Improves balance and coordination

Strengthening bones and muscles
If you are walking briskly, 10,000 steps will generally arrive somewhere between 1-2 hours.  means you will have burned several hundred calories! One way to make your Thanksgiving walk more enjoyable is to make it a family affair. Get everyone layered up, grab your sunglasses, and take a stroll around a park, through the woods, or just around your neighborhood. If you have dogs, don't forget them: we know they'll be table side getting scraps later in the day… whether you want them to or not!
If it is too cold or wet to walk where you live on Thanksgiving, jump to our next suggestion. 
Take a virtual fitness class
As many of us have adjusted our work and personal lives due to the pandemic, those who enjoy fitness have also turned to virtual classes to stay active. Luckily, you don't need an expensive home gym or piece of equipment to do something in your living room! There are many free, pre-recorded workouts on platforms like Youtube, Nextflix, and Prime video. Also, check with your local fitness businesses! Many, including our gym MsclThru Unlimited, have creatively expanded their services to add virtual options during the pandemic. Don't worry if you don't like certain types of workouts--there is everything from yoga and stretching, to calisthenics and body weight resistance workouts. You can even take dance and boxing classes! Our one tip here would be to avoid working out by the kitchen...the smells may cause you to stop a little early, and there will probably be a lot of traffic getting in the way of your moves!
Plan a backyard matchup
This is one of our favorites for families with kids as you can tweak the activities to include any age group. For younger kids you can play hide and seek or tag, and for older folks (including adults) think touch football or basketball. If you play for at least 30 minutes, you will get the muscles loosened up and really start burning calories. For even more burn, and if you have a larger family, create a small tournament where everyone gets to play everyone else! Be sure to take some time to stretch beforehand, and hydrate; we know the competition can become pretty fierce when family is involved!
Go for a ride
Bicycle sales in the US this year have been some of the strongest in recent history, which means more and more people have opted for human-powered, two wheeled transportation. It is important to remember that because a bike assists you in covering distance much faster than walking, you will need to bike a good bit farther if you are looking for the same calorie burn as going for a walk or a jog. That being said, if you are pedaling 20+ miles on a road bike, or, hiking up a steep slope with a mountain bike so you can ride down, you may end up burning a lot more calories. Safety is key when it comes to riding bikes, especially if doing so around traffic or in urban environments. At a minimum we would recommend a helmet to protect your most important asset. If you are doing more aggressive trail or road riding, gloves, good shoes, and sunglasses to protect your eyes are also a good idea. Our Aspen style wraps around the sides of the eyes and have high performance polycarbonate lenses to keep the dirt and bugs out.
Do some yard work! 
Wait! Don't click away just yet--we promise there is a reason to this suggestion that borders on madness. Many fitness plans we've come across dedicate at least one day to "recovery". The idea of these days is not to be too active so your muscles can rest, but also avoid being sedentary so that you undo your progress. Raking leaves, pushing a lawnmower, and chopping firewood may sound like chores (because they are), but they also help work muscles and burn quite a few calories. There is an added bonus that if you knock the big stuff off of your list, you will be even more ready for holiday decorations! So if nothing else, tidy up the yard and you can take care of two birds with one stone.
In conclusion, there are lots of ways to get some exercise on Thanksgiving Day. Choose one or more of the above, or any activity you enjoy doing. One of the best parts of a holiday is that you get a day off to do you--and in 2020, self care is as important as ever!