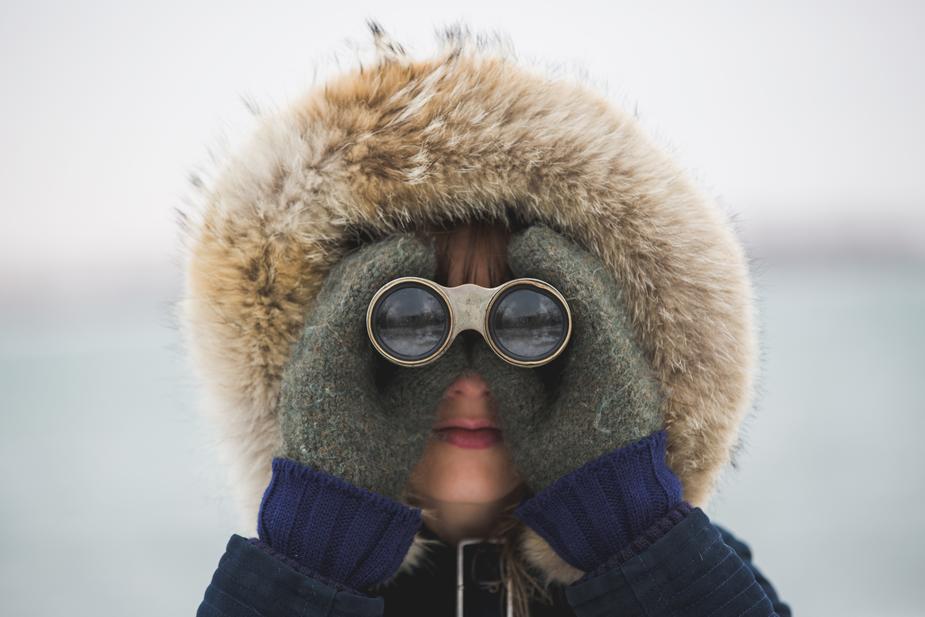 The days are shorter, and much of the country is a lot colder. Winter isn't just coming anymore, it's here in full force! Even before we were in the middle of a pandemic, for many people, these changes affecting our body temperature and circadian rhythms can lead to a phenomenon known as Seasonal Affective Disorder. The Mayo Clinic defines it as follows: 
"Seasonal affective disorder (SAD) is a type of depression that's related to changes in seasons — SAD begins and ends at about the same times every year. If you're like most people with SAD, your symptoms start in the fall and continue into the winter months, sapping your energy and making you feel moody."
Heavy, right? Fortunately, studies show that outdoor activities and maintaining social relationships are a great way to boost your mood, and stave off negative winter vibes! With that in mind, here are 6 fun winter activities to get you through:
Snow day activity #1: Make the snow your canvas
Snow angels and snow people are soo 2020. This year, grab the family and turn the beautiful white canvas of fresh snow into your own Picasso or Monet! Keeping the environment in mind, we recommend using biodegradable food coloring to create your colors. Add several drops to a squeeze or spray bottle full of water for an easy way to apply to your design. The more drops you use, the more concentrated and vibrant the color will be!
Dry and cold activity #1: Take a winter hike
While walking under a full canopy of leaves in the summer is nice, there is something special about walking in the serene quiet of the woods or mountains during winter. There are less animals around (including people!), and you can see much farther through the trees with the low foliage gone for the season. You may even hear more nature sounds as waves can travel farther in cold winter winter air! 
When hiking in winter, we have a couple of recommendations on how to make sure you are prepared for the season: layer, protect your skin, and cover your eyes! 
The longer you walk or hike, the warmer your body becomes. If you have too many layers on, it can lead to an uncomfortable sweat factor that can then make you cold if the temperature drops or the wind picks up. So, if you plan to be out for a bit, plan for wicking fabrics to keep you warm and dry!  

Even though the air is cool and it may be cloudy, the sun's UV rays are still beating down in the winter. There is also less shade than other times of the year, and it will be lower in the sky. Wear a moisturizing sunscreen to simultaneously protect you, and keep your skin from feeling dry and chapped. We promise you'll be much happier when you get off the trail!

As mentioned above, the winter sun can still do a number on your eyes. All of our sunglasses offer the industry highest level of UV400 protection, but you should definitely choose specific lenses based on your activity. For cloudy days with less light, look for one of our styles with 

light

 mirror lenses like the 

Birch with Green Light Mirror lenses

.

 

Very bright and sunny, or near water and snow? Go for a darker lens with polarization like on the 

Aspen with True Blue Mirror

.
Cold and rainy day activity #1: The movie marathon
Ok, this may not seem overly creative but hear us out. We aren't talking about a one and done movie after dinner here. We are talking a full blown, multi-movie marathon where you are really committed to the characters and plots. Want to know how you can really channel your favorite characters? Dress the part! From your clothes to your hair, get into character before plopping on the couch. Being sunglass fanatics, we started thinking of movies where sunglasses have an iconic role of their own--propelling characters from just OK to extra cool. Watching the Men In Black movies? Go for the Gloss Black Willow with Smoke lenses. Top Gun? How about the Light Gold Juniper Aviators! The list goes on--and while you may have to take off the shades to watch the movie, you'll have great memories from the selfies you take at the good parts!
Snow day activity # 2: Hit the slopes
You don't have to be a skier or snowboarder to enjoy the thrills of a decent hill and gravity. From true snow sports, to snow tubing and sledding, there is something for every level of adventure seeker. If you are new to these activities, we recommend starting small. If you are going to a proper ski resort, many of their websites have lots of useful information to determine how advanced the terrain will be. You can also check something like Onthesnow.com which allows you to specifically seek resorts close to where you live. Another great feature of the site is it shows multiple resorts' difficulty levels all in one place! Higher percentages in the beginner category mean it more likely there will be plenty of options for everyone in your family. 
If you are just going to a steep hill, not in a resort, we recommend walking the hill first to identify any hidden hazards like rocks, tree roots, or holes. You'll also want to be sure there is plenty of runway at the bottom so you don't overshoot into a street or other obstacles. Bluebird day? Grab a pair of polarized sunglasses to reduce the glare of the sun as you walk up and down!    
Dry and cold activity #2: Build a bonfire
Cold air all around you, and a roaring orange fire in front of you to warm your face and hands. Sounds lovely right? When building a fire, make sure you follow these easy steps to get it right the first time!
Make sure all of your wood is dry. Damp wood often does not ignite, and if it does, it can create more smoke than dry wood. If you are collecting it from the woods, you can look for dead trees that are still standing, as logs on the ground will most likely be too moist.

Start small then go big. This is a fun way to involve kids! Have them get small sticks (think matchstick thickness) first, then pencil thin, all the way up to diameter of a quarter. Start with something very flammable like dryer lint or paper in the middle, then arrange them with the smallest sticks towards the center--moving to the thicker sticks on the outside. This will be sufficient to light your bonfire so you can then add larger logs once things are burning hot!
Cold and rainy day activity #2: - Have a bake off or a cook off
One of the best things you can do on a gross day is make warm comfort food. Make it more interesting by challenging the members of your household to a contest! Start by setting some ground rules: How much time does everyone get? Does everyone get access to a small list of ingredients, or can you use anything in the house? Are there multiple courses, or just one item like in a chilli cookoff? It's also a good idea to identify how judging will take place. If there are multiple chefs, we like the blind tasting format so you aren't sure who the creator was! Have fun with the judging as well. From the "blue ribbon" first place winner, to a "people's choice" award, everyone's dish deserves kudos. If you are feeling feisty, once a winner has been declared, make the losers clean up. That will certainly motivate everyone to do their best!
What's your favorite winter activity? Email us at hello@sunheist.com for a chance to be featured on our social media pages!