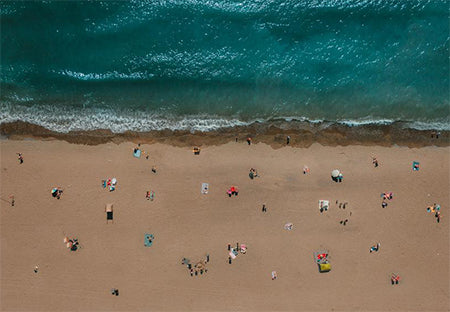 Summertime is full of opportunities for adventure, but one broad destination usually tops everyone's list: the beach! With the US having over 95,000 miles of coastline, there is a good chance that your own personal paradise is just a quick Google search away. From isolated stretches of sand, to bright and lively boardwalks, every coastal town and region is a bit different. You shouldn't feel like you have to settle for just any beach--which is why we created this post!
Let's kick off by sharing the 11 States with the longest coastlines.  We will then go into our list of great beaches based on 4 types of beachgoers, and the best SunHeist shades for each type!
| | | | |
| --- | --- | --- | --- |
| Alaska | Florida | California | Washington |
| North Carolina | Texas | Louisiana | Maryland |
| Maine | Virginia | Hawaii | |
As Alaska has the longest coastline in the United States, but isn't necessarily where people think of when it comes to toes in the sand, we extended our list to 11 to get a perennial favorite: Hawaii! In fact, Dr. Stephen Leatherman from FIU, affectionately known as "Dr. Beach" for his lifelong study of coastal regions, has just named two Hawaii beaches to histop 10 list for 2021! The list also included two beaches each for North Carolina and Florida--so if you live in or nearby to one of these states, you are certainly in luck!
Sporty Beaches
If surfing, skimboarding, or scuba diving sound like you dream week you'll want to check out one of these awesome beaches:
San Diego County, CA: With over 70 miles of coastline to choose from, and a major airport close by, San Diego represents the best of Southern California surf culture. Plus,57 Hours gave this area its "most consistent surf" badge!
Cape Hatteras, NC: If you love kitesurfing, there is no shortage of wind on North Carolina's barrier islands. Furthermore, as the island is so narrow, you have the benefit of being able to kitesurf on either the blustery Atlantic side, or the calmer intercoastal waterway.
Oahu, HI: With beautiful reefs, clear water, and sunken ships, this island offers a diver's paradise. Be sure to check out the USS YO-257 or San Pedro which are only separated by about 70 feet!
Recommended SunHeists: Aspen. Protect your eyes from wind, sand, and glare with our comfortable, wrap-around styled frames.  
Getaway beaches
Some of the most exciting beaches are the hardest to get to. If you are really looking for privacy and solitude think about one of these great island getaways:
Nantucket, MA: Unlike Martha's Vineyard which has lots of private beaches, Nantucket has miles of wild coastline to explore. The sound side offers warmer, calmer water, while the surfers prefer the South side on the ocean for bigger swells. This island is accessible by plane or ferry.
Cumberland Island, GA: With wild horses, a national campsite that books months in advance, and a single 16 room hotel, this is a perfect beach to slow down and explore nature without distraction. This national seashore is only accessible by ferry.
San Juan Islands, WA: Jumping over to the NW coast, these islands are a trip from Seattle or Vancouver. A bit different from the east coast beaches, in addition to conifer forests and rolling hillsides, you'll also be able to go whale watching and visit vineyards.
Recommended SunHeists: Willow. All day comfort, great coverage, and affordable polarized options make them perfect for lots of time by the water.
Nightlife beaches
Whether you want to feel the pounding of a subwoofer in your chest, or hear the shuffling of cards and poker chips, these are great options for nightlife beaches:
Charleston, SC: With its history abound, some of the best restaurants on the east coast, and upscale southern fashion, thousands flock to Charleston every year. While the nightlife is more about great food and cozy bars, it certainly stays bustling at night.
South Beach, Miami, FL: Will Smith's song came out a long time after Miami became famous. You'll have no shortage of mega clubs to choose from, and many of the country's top DJs visit often or have even taken up residency there.
Atlantic City, NJ: Chances are if you live in the NE, you've spent a weekend letting loose at Atlantic City. With no shortage of casinos, restaurants, and attractions, you'll be able to put your toes in the water during the day, and stay up all night under the neon lights.
Recommended SunHeists: Cypress. Stylish and squared lenses PLUS two frames in tortoise will make them an instant hit at the cabana or the club.
Family friendly beaches
From little ones, to teens, to family reunions, these beaches offer age appropriate attractions for everyone:
Santa Cruz, CA:The boardwalk is full of attractions and games for kids and adults of all ages. Jump on a roller coaster dating back to 1924, and scream at the top of your lungs while you wave at the Pacific over your shoulder.
Rehoboth Beach, DE: With public beaches, a comfortably busy boardwalk, and full summer concert schedule, families will have a great time at Rehoboth. The Bandstand has been offering free concerts since 1963!
Gulf Shores, AL: A lot less busy than the above, but still a wonderful place for families. In addition to the soft gulf beaches, take the kiddos to ride the ferris wheel, visit a science center, or the zoo. If the parents can cut away, take a romantic hike on a nature trail.
Recommended SunHeists: Birch. Lightweight, flexible, and reasonably priced in case one of the kids throws your sunnies in the water or makes you ride the teacups.